Dear donors and supporters,
I hope you are enjoying the rays of sun we are experiencing on the Central Coast. Now I know spring has finally sprung!
At the Hartnell College Foundation, we are geared up for great things, starting with Party IN the Library on May 13, 2023. I hope you have reserved your tickets because I promise this will be one for the books!
A week and a half ago, I was inspired by the great turnout for our Ag Tech Workforce Initiative Media Briefing and Tour at the Alisal Campus.
The Mechatronics shop was filled with excitement as industry partners, media outlets, students, and Bank of America enjoyed a morning filled with a positive report card of the efforts made in the last year. Students in Ag are gaining knowledge through hands-on training and getting paid for it! We are so thankful for partnerships with Bank of America, Taylor Farms, and the James Irvine Foundation, among many others who make this possible for our students.
Below is a story about the media briefing, photos, and links to media stories featuring the event.
As always, thank you for all your support!
Jackie Cruz
Vice President, Advancement and Development
Executive Director, Hartnell College Foundation
(831) 444-2446
jcruz@hartnell.edu
HC AG TECH WORKFORCE INITIATIVE
Report Card of Progress Shows Excellent Marks from Students and Employers
After launching during the 2020 pandemic when classes were being held online, the Ag Tech Workforce Initiative has proven to be an invaluable investment in the students and adults returning to study at Hartnell College's Agricultural Business and
Technology Institute.
In the second year of a three-year pilot, the program's most recent report card got all A's. Its success was on full display at Hartnell's Alisal Campus in Salinas on April 19, 2023, where program funders like Bank of America and local ag companies came together to tour the facility and get a progress report. 
Guest speakers included Hartnell Superintendent/President, Michael Gutiérrez; David Gill, Chair, Hartnell Ag Steering Committee; Jennifer Dacquisto, President of Bank of America Monterey Bay; Chris Valadez, President of the Grower-Shipper Association of Central Coast; and Napoleon Navarro, Hartnell Student and Ambassador. The event was emceed by Jackie Cruz, VP of Advancement for Hartnell College and Executive Director for the Hartnell College Foundation.
Hartnell College's Ag Tech Workforce Initiative pays incumbent farm workers and other non-traditional students to take training courses and gain the skills needed to move into new jobs.
"We are thrilled to have had the opportunity to showcase the Ag Tech Workforce Initiative at our Alisal Campus," said Jackie Cruz. "This program is changing lives and opening doors for people who may not have had these opportunities."
The program, funded with the help of companies and organizations like Bank of America, Taylor Farms, and the James Irvine Foundation, has so far helped more than 800 students, including placing 220 formerly lower-wage workers into new corporate jobs and paid internships at local companies like Taylor Farms, 3 Star Lettuce, Braga Fresh Family Farms, Tanimura & Antle, United Genetics, and the USDA.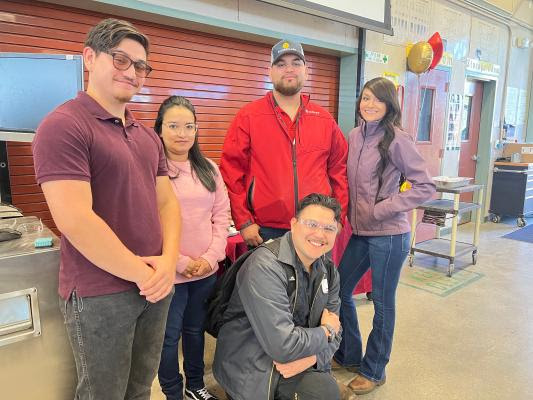 "We are proud of our students' success and are committed to providing these valuable resources to the community," said Cruz.
Freshman student Napoleon Navarro expressed gratitude for his teachers and Bank of America, which pays stipends for students to take the courses and helps create a more skilled workforce for the region. 
"This program has not only provided hands-on training but has empowered me to step out of my comfort zone and lead my cohort and act as program ambassador," said Navarro. "The incredible training and support I have from the administrators and professions will help me achieve my Ag Engineering or Ag Mechanics career goals."
Hartnell College Foundation is proud to partner with Bank of America and grateful for its commitment to initiatives like the Ag Tech Workforce Initiative, which highlights the company's dedication to creating career pathways in under-resourced communities.
"We live in an $8 billion agricultural epicenter," said Jennifer Dacquisto. "Because the pandemic exacerbated existing economic disparities in communities of color, especially with our local agricultural farm workers, we have been investing in the up-skilling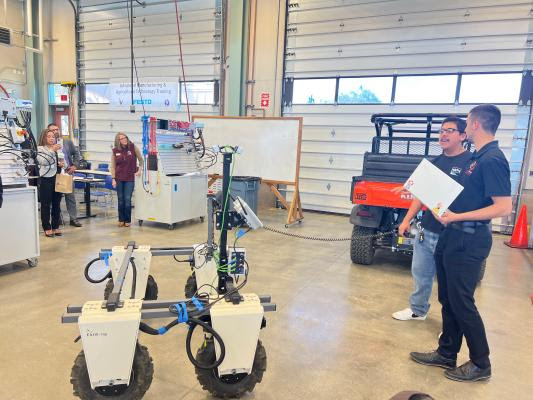 and reskilling of this critical labor force through partnerships with Hartnell College. This program helps those at risk of job disruption as the industry evolves."
Students interested in the program can visit the Hartnell College Agricultural Business webpage to learn more and apply online. 
For more information about the Hartnell Ag Initiative Media Briefing +Tour held in the Alisal Campus, check out some of the media coverage:
KSBW Coverage
https://bit.ly/40qocxG
UNIVISION 67 Coverage
https://bit.ly/41sbPT7
MC WEEKLY Coverage
https://www.montereycountyweekly.com/opinion/mcnow_intro/a-pilot-program-at-hartnell-college-is-educating-the-ag-workforce-of-the-future/article_46455b3e-df11-11ed-8d72-3b4b2f781a3c.html
What will your legacy be?
If you are thinking about naming the Hartnell College Foundation in your estate plans, contact our Vice President of Advancement and Development/Executive Director for the Foundation, Jackie Cruz at jcruz@hartnell.edu or call (831) 444-2446 or our Director of Philanthropy, Kristine Edmunds at kedmunds@hartnell.edu or by phone at (831) 755-6903. To make a gift in support of Hartnell students, go to: https://hartnellfoundation.org/donate-now/