Dear donors and supporters,
Valentine's Day was yesterday, but we are celebrating love and friendship all month long! Receive warm hugs and best wishes from all of us here at the Hartnell College Foundation.
This month we are getting ready for the Women's Education and Leadership Institute's (WELI) Soirée. If you have not purchased your tickets, you can do so by clicking HERE. You will be inspired by our alumna speaker, our guest speakers, and our WELI Committee Co-Chair. The impact of this program is immense in our community.
And did you hear that Party in the Library is back IN the library? We are beyond the moon to return to this model, which promises to be elegant and beautiful. For more information and to become a sponsor, click HERE.
Wishing you a wealth of health and love today and always!
Be well,
Jackie Cruz
Vice President, Advancement and Development
Executive Director, Hartnell College Foundation
(831) 444-2446
jcruz@hartnell.edu
The Alfred Diaz-Infante Memorial Legacy Scholarship Endowment Yesenia Marquez Padilla is one of seven scholars
"I believe that things happen for a reason," said Hartnell College Alumna Yesenia Marquez Padilla. "Hartnell was put in my path for a reason and I am so glad they were there for me."
Marquez Padilla, 24, has reason to celebrate and be thankful. On February 2, 2023, she was one of six Alfred Diaz-Infante Memorial Legacy Scholars to be celebrated at the CHISPA annual event, along with one Diaz-Infante Family Scholar. She graduated from Hartnell in May 2022 and transferred to CSU Bakersfield as a Political Science and Pre-Law major. She is set to graduate in December 2023. Alfred Diaz-Infante was the CEO of CHISPA (Community Housing Improvement Systems and Planning Association) for 24 years, making the event the perfect occasion to announce the recipients of his scholarship.
"I learned to love the law system in this country, although the justice system has flaws. I want to be a catalyst for change," she said. "I want migrant students to know that there are many opportunities for them, and I want to be a resource for them and their parents."
Yesenia is from Castroville. She has three siblings. Her parents came from Jalisco, Mexico and her mom is also a Hartnell alumna.
"I am so proud of my mom!" she said. "She is not only a cancer survivor, but she graduated from Hartnell with me last year; we got to walk together at graduation. It was special."
In 2016, Yesenia graduated from North Monterey County High School in Castroville and went on to Cal State University East Bay. During a trip to Mexico, she fell ill and had to immediately undergo surgery for appendicitis, and later her gallbladder was removed. She could not travel back to the United States and had to remain in Mexico for one year for proper healing.
"I have always been determined to finish school and I went through my illness with lots of stress because of all the delays with my education plan," she said. "It was not easy to transition from a university to a community college – for a while, I felt a lot of shame for taking so much time to pick up the pieces and continue."
But she held her head up high and turned the situation into a positive outcome. As a member of her local LULAC, she raised $10,000 for scholarships, became the Reina Fiestas Patrias 2019, and became a champion for community advocacy and higher education.
This summer, Marquez Padilla will be preparing for her LSATs, the admissions test required by most schools of law.
"I want to make my America better," she said.
When she has free time from her studies, Yesenia loves to try new foods, travel, explore architecture, dance, play with makeup, hike, and more.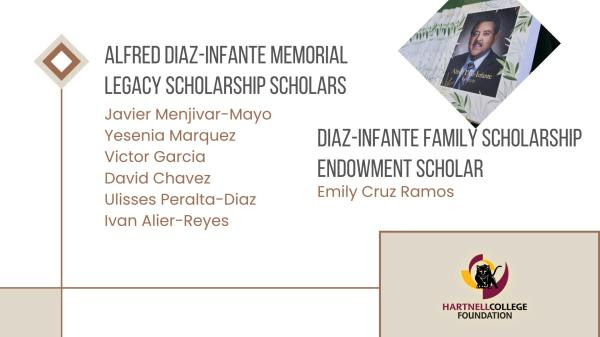 Congratulations to all the 2023 Alfred Diaz-Infante Memorial Legacy Fund Scholars and the 2023 Diaz-Infante Family Fund Scholar! The Hartnell College Foundation is proud of you and looks forward to your contributions to our communities as you become brilliant professionals in your fields of study.
ENDOWED GIFT AND BEQUEST A strategy to support the causes you care about, now and forever!
Have you ever heard the phrase "blended gift" and wondered what that meant? A blended gift is a combination of a current gift and a planned gift. It is a way to support the causes that you care about and make your giving go further.
A giving strategy that may appeal to you is a blended gift that consists of an endowed gift and a charitable bequest made in your will or trust. An "endowed gift and bequest" can help you achieve your goals. You can provide for your family, meet your financial goals and support the causes that matter most to you.
A blended gift can maximize the impact of your giving! By carefully balancing your giving today and choosing how to leave a legacy tomorrow, you can see your gift at work now while also knowing your philanthropic work will continue.
For more information on blended gifts, contact Vice President of Advancement and Development/Executive Director for the Foundation, Jackie Cruz at jcruz@hartnell.edu or call (831) 444-2446, or our Director of Philanthropy, Kristine Edmunds at kedmunds@hartnell.edu or by phone at (831) 755-6903 to guide you through the process.
What will your legacy be?
If you are thinking about naming the Hartnell College Foundation in your estate plans, contact our Vice President of Advancement and Development/Executive Director for the Foundation, Jackie Cruz at jcruz@hartnell.edu or call (831) 444-2446 or our Director of Philanthropy, Kristine Edmunds at kedmunds@hartnell.edu or by phone at (831) 755-6903. To make a gift in support of Hartnell students, go to: https://hartnellfoundation.org/donate-now/