Gift Legacy eNewsletter- 2/1/23
Dear donors and supporters,
The spring semester has started and there is nothing better than to see students back on campus!
I hope you are all doing well and know how much we appreciate you. You ARE making a difference in the lives of many students. The feature story below is a great example of the impact your contributions make. You are providing life-changing opportunities to students like Gabino. His story will amaze you. We are so proud of him and of his achievements already and know that he will go far.
In the weeks and months to come, you will learn about special events to engage you with the campus and with our community. Some of these events include the WELI Soirée and Party IN the Library. Please visit www.hartnellfoundation.org for more details on what's coming up this year. We would love to see you!
The Foundation Board designates a fund to match new endowments
I am pleased to announce that the Hartnell College Foundation Board has committed to a 1:1 match of up to $200,000 for any new endowments established at the foundation. If you have been thinking about creating a named scholarship or supporting the foundation in perpetuity, Kris Edmunds and I would love to speak with you about this matching fund opportunity.
Wishing you a great week filled with warmth!
Jackie Cruz
Vice President, Advancement and Development
Executive Director, Hartnell College Foundation
(831) 444-2446
jcruz@hartnell.edu
FILLED WITH GRATITUDE
Gabino Guzman goes to Paris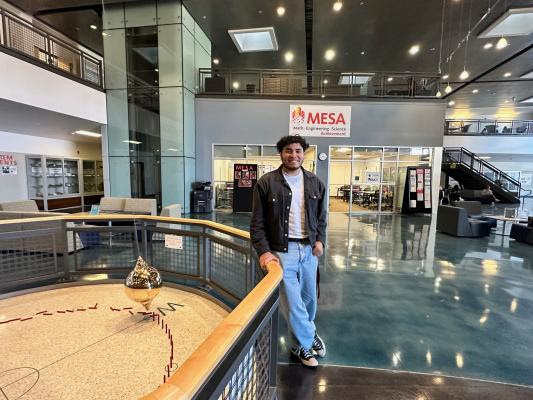 Last year, Gabino Guzman, 20, participated in a summer internship at UC Santa Cruz's International Genetically Engineered Machine (iGEM) and was part of the team that entered the International Synthetic Biology Competition. They won gold! He was the only Latino, the only Hartnell student, and the only one with parents who work in the fields.
"To be honest, I felt out of place there," Guzman said. "I felt like I did not bring any value to the team; they were all smarter than me and had a completely different upbringing than me."
But this changed. In this international competition, the team had to interact with teams in other countries, and thus when La Universidad de Tecnológia de Chihuahua, Mexico connected with the UCSC team, Gabino was the only one who spoke Spanish and translated for the team.
"That was the moment I realized I have traits that are unique to me and that my team celebrated," he said. "On the last day of the internship, I was invited to join them to present our research in Paris – I was floored!"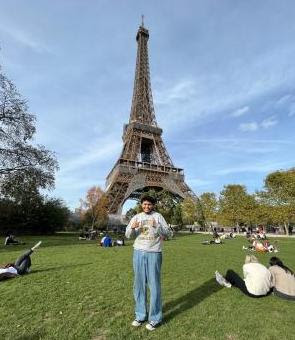 He wrote a letter to the Hartnell College Foundation and to his dean asking for a scholarship to support his travel expenses to France. It was a process that had to be approved by the Foundation Board and the College Board of Trustees. And thus, with all the necessary blessings, Gabino was off to Paris on October 2022.
"I did not even process it up until I was at the Eiffel Tower," he said. "That's when I realized I was a long way from home."
He was there with his team for one week, during which they presented to teams from other countries as shown in the photo with representatives of India. He enjoyed workshops and visiting Paris during their free time.
His team at UCSC worked on producing a protein called "Exendin-4 (Ex-4)" in E.Coli and S. cerevisiae to make Type 2 Diabetes treatment more accessible for under-resourced and socioeconomically disadvantaged communities. Ex-4 is a glucagon-like peptide 1 receptor agonist (GLP1-RA) drug that triggers a response that leads to increased insulin production and sensitivity. Their goal is to produce a bio-encapsulated GLP1-RA Ex-4 that is cost-effective for patients.
"To our donors, thank you for changing my life as a first-generation college student!" He said. "Thank you for believing in me and bringing me a step closer to achieving my dream of becoming a physician-scientist."
Guzman graduated from Soledad High School in 2020 and began his college career at Hartnell College that same year. When he graduates in May 2024, he will have earned associate degrees in biology, physics, chemistry, and math. His goal is to become a physician-scientist and earn an MD and a Ph.D. in biomedical engineering. He gives credit to his support programs in MESA, TRiO, and MILE (Men's Institute of Leadership and Education) for having the drive and motivation to keep going.
"My TRiO director, Manuel Bersamin, is always encouraging me," he said. "He was there when for a moment I doubted myself and he reassured me that I am meant to do great things with my life – I am infinitely thankful to him and to MESA for believing in me."
Although he has a busy academic life and work schedule with MESA, Gabino finds time to read classical books and philosophy, and he enjoys playing chess and working out. He has a little brother and two half-sisters.
"Hartnell was the best choice for me and I hope many others take advantage of a local community college that provides all you need to succeed," he said. "I have struggled, but I have taken advantage of all the resources here, I have put in the work, and I am succeeding."
Gabino says that his parents are proud of him and that his dad tells him how he never imagined he would get a son who is such a hard worker. "It is a nice feeling to hear my dad be so proud," he added.
A CHARITABLE BEQUEST
The Benefits of an IRA Bequest
One type of bequest to consider is a bequest from your IRA. If you leave your IRA to your children, your heirs could face a significant tax. Talk with your estate planner about the types of assets to leave to your family that can produce little or no tax. Then consider making a bequest of your IRA to us. We will receive the full proceeds free of tax and can use this gift to help further our mission.
BEQUEST BENEFITS
A charitable bequest is an easy way for you to help us in our work and benefit. Here are some of the benefits of bequest giving:
• It costs you nothing today to make a bequest
• Your bequest can be changed down the road
• You can still benefit your heirs with specific gifts • A bequest may produce estate tax savings
• You can leave a legacy through a bequest
HOW TO MAKE A BEQUEST
A bequest is one of the easiest gifts you can make to significantly impact our work. Your estate planning attorney can include a provision in your will that leaves a lasting gift to our organization. Your bequest could be a gift of specific assets (such as a vehicle, artwork, or coin collection), a dollar amount ($100, $1,000, or 10,000), or a percentage of your estate (3%, 10%, or even 25%). A bequest could also be made from the residue of your estate or what is left after all gifts have been made to your heirs.
Contact Vice President of Advancement and Development/Executive Director for the Foundation, Jackie Cruz at jcruz@hartnell.edu or call (831) 444-2446, or our Director of Philanthropy, Kristine Edmunds at kedmunds@hartnell.edu or by phone at (831) 755-6903 to guide you through.
What will your legacy be?
If you are thinking about naming the Hartnell College Foundation in your estate plans, contact our Vice President of Advancement and Development/Executive Director for the Foundation, Jackie Cruz at jcruz@hartnell.edu or call (831) 444-2446 or our Director of Philanthropy, Kristine Edmunds at kedmunds@hartnell.edu or by phone at (831) 755-6903. To make a gift in support of Hartnell students, go to: https://hartnellfoundation.org/donate-now/