Hartnell Students Find Art, Culture, and Mentorship
Dear donors and supporters,
If you are like me, you are taking advantage of the summer months to enjoy quick getaways with family and friends. For some of you, it's time to make up for those trips put on hold due to the pandemic. Good for you!
Here at the Hartnell College Foundation, we continue to work diligently for our students and for our community. We are delivering top-notch programming that supports students year-round, providing them with the support they need to continue with their educational pursuits.
Below, read about two programs that are enhancing the educational experience of our students. With your support, we can reach more students and together, change more lives for the better.
Be well,

Jacqueline Cruz
Vice President of Advancement and Development
Executive Director, Hartnell College Foundation
(831) 444-2446 mobile
THE BORONDA SCHOLARS 2023
Finding Art and Culture in Hawaii
It was an exciting time for seven Hartnell Students selected as the 2023 Boronda Scholars. From May 28 thru June 11, they traveled to Hawaii, where they visited the Big Island, Maui, and Oahu.
"For six of the students, it was their first time in Hawaii," said Dr. Lee Ritscher, faculty in charge. "They were blown away by this experience."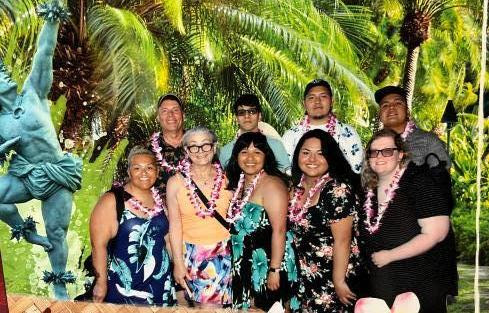 Dr. Ritscher and the scholars were accompanied by Professor Dan Peterson as the second coordinator of the trip.
Their search for culture and the arts began on the Big Island. The group visited Hilo, Volcanoes National Park, Rainbow Falls, Kona, and more. Then they continued to Maui, where they experienced the Road to Hana, with many stops along the way, went up to Haleakala, and visited artsy Lahaina. Next was Oahu, where arts and culture followed them everywhere they went – a walking tour in Chinatown, Pearl Harbor, the Honolulu Museum of Art, The Actors' Group Uncle Vanya performance, snorkeling, and of course, a luau (pictured). They found the islands were rich in dance, song, culture, the arts, and history.
The Sylvano and Maria Boronda International Study Program was established in 1985 and has taken students to South America, Central America, Asia, Europe, and Africa, as well as various locations in the United States. In his will, Lester D. Boronda specified that the recipients were to be students of unusual promise in the arts, namely painting, sculpture, architecture, literature, drama, music, or dance.
Students selected for the Boronda Program study and travel under the direction of a Hartnell College instructor. The scholarship includes paid expenses for air and ground transportation, lodging, meal allowance, and accident insurance.
Dr. Lee, a four-time Boronda trip coordinator, shared that all the scholars showed gratitude for this experience. "They enjoyed this trip so much. They said that although Hawaii is part of the United States, it felt like a completely foreign place. They agree it was a life-changing opportunity they will never forget."
The scholars learned a lot about current and past cultures and civilizations. They enjoyed their time on the three islands and in the end, most of them purchased a Ukulele to play and to remind them of this amazing experience.
In photo – Back L to R: Dan Petersen, Jose Hernandez, Mauro Medrano, and Ivan Ramirez. Front L to R: Amanda Hernandez, Lee Ritscher, Montserrat Ayala, Rubicela Barrios, and Noelle Proud.
INTENTIONAL MENTORSHIP
50 WELI Scholars Selected for Life-Changing Mentorship
The Hartnell College Foundation is proud to announce that 50 scholars have been selected as part of this year's Women's Education & Leadership Institute (WELI) at Hartnell College. This is possible thanks to a grant from The Peggy & Jack Baskin Foundation and supporters in the community.
The WELI scholars are current Hartnell students who will participate in three workshops and receive a scholarship of $2,500. In addition, this program has a mentorship component. Each scholar will be matched with a mentor with whom they will interact for an entire year.
"This is a great opportunity for these women to receive professional mentorship from other women in our community," said Dr. Gabriela Lopez, Director of Student Affairs, Office of Equity Programs. "They will learn to have a sense of belonging, a sense of empowerment, a sense of agency that will propel them to the next level."
Dr. Lopez, pictured, is excited to have Nena Anguiano as this year's workshop facilitator. She comes with over 30 years of experience working in education and shows a strong sense of familiarity with the challenges and struggles college students experience.
WELI was founded in early 2011 by community leaders who saw a need to advance the education and economic status of women and families in Monterey County. The WELI program consists of summer leadership training, an on-campus, student-led WELI Club, powerful mentorship with community leaders, and a $2,500 financial award per student, making this a life-changing experience. Since its inception, the WELI program has graduated more than 250 scholars and granted approximately $500,000 in scholarships.
"WELI provided me with a supportive environment where I connected with other
women who shared similar experiences and aspirations as me," said WELI scholar Maricarmen Gonzalez. "WELI was not just a financial support, but a community where I found comfort and friendship in facing challenges and seeking personal growth."
WE NEED WELI MENTORS!
Empower and inspire the next generation of women leaders as a WELI Mentor in 2023! WELI believes in nurturing and supporting the growth and success of our students through life skills training, financial support, and mentorship.
As a WELI Mentor, you will have the opportunity to make a meaningful impact by sharing your experience, expertise, and passion for lifelong learning with a WELI scholar. By being a role model and guiding force, you'll empower and encourage your scholar to reach their full potential and overcome challenges along the way.
Mentor matches are carefully crafted based on the unique career aspirations and personal characteristics of both mentors and scholars. Whether you're just starting your journey or have years of experience to share, we welcome your involvement in this empowering movement.
If you're interested in making a difference as a WELI Mentor, please FILL THIS FORM TODAY! Help us cultivate the future of strong and successful women!
IRS NEWS!
The AFR is increasing to 5% in August
The IRS has released the Applicable Federal Rate for the month of August 2023. Each month the Service surveys hundreds of interest rates for various financial instruments and publishes the rate that is applicable for charitable deduction calculations. The rate for August is 5.0%. The AFR will update automatically in your Crescendo software.
When calculating the tax deduction for a charitable gift, the IRS permits the use of the applicable Federal Rate for the current month or one of the two prior months. For charitable remainder unitrusts, annuity trusts, and gift annuities, the highest Applicable Federal Rate will produce the largest charitable tax deduction. However, for seniors who create gift annuities and do not itemize, the lowest Applicable Federal Rate will produce the highest tax-free payout. For lead trusts and life estates reserved, the lowest Applicable Federal Rate is the most favorable.
Contact Vice President of Advancement and Development/Executive Director for the Foundation, Jackie Cruz at jcruz@hartnell.edu or call (831) 444-2446, or our Director of Philanthropy, Kristine Edmunds at kedmunds@hartnell.edu or by phone at (831) 755-6903 to help you create a blended gift strategy to achieve your goals while supporting our mission.
What will your legacy be?
If you are thinking about naming the Hartnell College Foundation in your estate plans, contact either our Vice President of Advancement and Development/Executive Director for the Foundation, Jackie Cruz at jcruz@hartnell.edu or call (831) 444-2446, or our Director of Philanthropy, Kristine Edmunds at kedmunds@hartnell.edu or by phone at (831) 755-6903. To make a gift in support of Hartnell students, go to: https://hartnellfoundation.org/donate-now/