The Lasting Impact of Your Endowments!
Dear donors and supporters,
As rain continues to pour, we are thinking about all those affected, including our students, many of whom are from families that have been deeply impacted by the loss of employment and by housing and food insecurity brought on by the flooding. We are in the process of setting up a fund for these students and their families and will tell you more soon. We are also keeping our friends and supporters in our thoughts and hope you are staying safe.
It is thanks to benefactors like you that we at Hartnell College Foundation can disperse thousands of dollars in scholarships to students each year. In addition, the programs you support provide enriching experiences that students would otherwise not be able to access.
Our feature story is a great example of how you can leave a lasting legacy through an endowment. I hope you get inspired and contact me if you are interested in legacy giving.
We are excited to share with you that Hartnell Student Laura Rivera, who was named Young Adult Philanthropist of the Year for the Central Coast in November, was featured in the Monterey County Weekly. You can read the article HERE.
Be well and be safe,
Jackie Cruz
Vice President, Advancement and Development
Executive Director, Hartnell College Foundation
(831) 444-2446
jcruz@hartnell.edu
THE LARRY PEDROZA MEMORIAL SCHOLARSHIP A Legacy to Support Student Dreams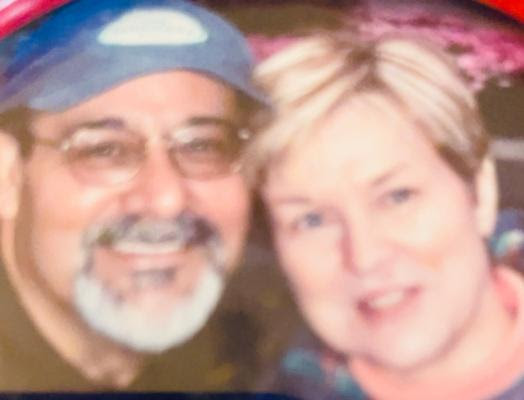 "Larry always valued education – he thought it was the best way to get ahead and develop as a person," said Tina Sohn of her late husband, Larry Pedroza. "He was always interested in learning."
Pedroza graduated from Hartnell College with an AA Degree in Sociology in 1977. He went on to Sacramento State University and later to the University of Arizona. He acquired his bachelor's and master's degrees and started his doctorate in Sociology.
He passed away in early 2022. "He was a wonderful person, husband, and dad," Tina said. "He was a great friend – always there – I miss him every day."
Because of his passion for education, Tina established the Larry Pedroza Memorial Scholarship. It will be awarded annually to a current student at Hartnell majoring in Social and Behavioral Sciences and/or Sociology.
Pedroza grew up in Salinas and had two grown children from his first marriage. His family connection to Hartnell College includes his brother, Michael and a granddaughter, both of whom graduated from Hartnell. He felt that his experience at Hartnell jump-started his educational journey.
Tina and Larry met through a mutual friend at Rutgers University in New Jersey, where she is from. He started work there as Associate Director of the Learning Center. She held various positions, including Director of the Learning Center. They loved to read, learn, and watch/discuss the daily news. They were married for 20 years.
"I started this endowment in his memory because education was very high in his priorities," Tina said. "I want to give opportunities to others to have an education and make it a little easier for them."
Tina is not new to endowments. She lost her mom five years ago and started an endowment in her name to support students in the nursing field. "My mom went back to school in her early 50s to get her nursing degree," she said. "I admire that so much."
She hopes that with this scholarship, students will get a head start in their education and learn to appreciate the power of learning just like Larry did.
"Doors will be open thanks to an education," she said. "My hope is for scholarship recipients to continue on and pass on the opportunities to others."
DONOR ADVISED FUNDS Give You Control
A Donor Advised Fund (DAF) is an account you establish with a bank, investment company, or charity to help you organize your giving to the nonprofit organization(s) important to you.
Each time you contribute money or stocks to the fund, you receive an income tax deduction. Your account administrator invests your funds and when the timing is right for you, you tell the administrator to make a distribution. You choose the amount.
Benefits of a DAF
Time your contributions for maximum tax deductions
Give to charities when you want
Give anonymously through your fund
Name children and grandchildren as successor owners to create a legacy
May We Help You?
To learn more, please contact Vice President of Advancement and Development/Executive Director for the Foundation, Jackie Cruz at jcruz@hartnell.edu or call (831) 444-2446, or our Director of Philanthropy, Kristine Edmunds at kedmunds@hartnell.edu or by phone at (831) 755-6903. We welcome the opportunity to answer your questions about DAFs and show your possible benefits.
What will your legacy be?
If you are thinking about naming the Hartnell College Foundation in your estate plans, contact our Vice President of Advancement and Development/Executive Director for the Foundation, Jackie Cruz at jcruz@hartnell.edu or call (831) 444-2446 or our Director of Philanthropy, Kristine Edmunds at kedmunds@hartnell.edu or by phone at (831) 755-6903. To make a gift in support of Hartnell students, go to: https://hartnellfoundation.org/donate-now/